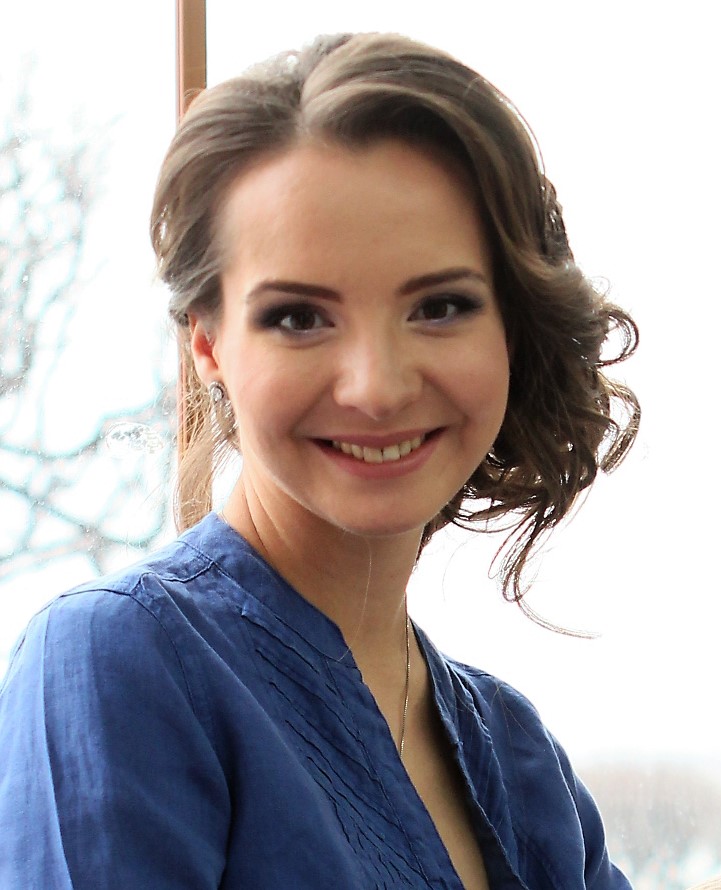 Senior Lecturer, Ph.D. (Chem.)
Mail address: 198504, Russia, Saint Petersburg, Peterhof, Universitetsky pr, 26, Institute of Chemistry, Department of Analytical Chemistry
Laboratory №: 3069
e-mail: d.v.navolotskaya@spbu.ru; navolotskayadv@gmail.com
ResearcherID: J-2848-2013
AuthorID: 56692863400
SPIN: 10186032
ORCID: 0000-0001-7500-5349
Scientific-and-educational group:
electrochemical methods of analysis and membrane separation
Area of research:
electroanalysis, electrochemical sensors
Scientific achievements:
• Development of the technique for heavy metals determination that doesn't require calibration (stripping coulometry) using screen-printed electrodes.
• Development of analytical applications of interrupted amperometry – highly sensitive technique for diffusion current measurement.
Main results of applied work:
Participated in the development of an automated system for determination of copper in hydrometallurgical solutions for the needs of MMC "Norilsk Nickel"
Educational job:
Teaching courses:
"Chemistry" (bachelor's program "Geology", 1 year)
Publications:
1. Interrupted Amperometry on Solid Electrodes:Determination of Hydroquinone and Phenol / E. A. Semenova, D. V. Navolotskaya, S. S. Ermakov, V. V. Moshkin, and L. A. Khustenko // Journal of Analytical Chemistry, 2017, Vol. 72, No. 1, pp. 113–119
2. Laser-induce co-deposition of copper with cobalt as signal amplification method for biochemical microbiosensors / Smikhovskaia, A.V. , Khairullina, E.M., Navolotskaya, D.V., Tumkin, I.I., Ermakov, S.S. // Proceedings – 2016 International Conference Laser Optics, LO 2016. 23 August 2016, Article number 7549995, Page S228
3. Interrupted amperometry: An ultrasensitive technique for diffusion current measuring / M. Belebentseva, D. Navolotskaya, S. Ermakov, V. Moshkin, L. Khustenko // Electrochimica Acta 191 (2016) 510–515 – DOI: 10.1016/j.electacta.2016.01.010, IF = 4,803
4. A brief review on immobilization of gold nanoparticles on inorganic surfaces and successive ionic layer deposition / L.B. Gulina, A.A. Pchelkina, K.G. Nikolaev, D.V. Navolotskaya, S.S. Ermakov, V.P. Tolstoy // Reviews on advanced materials science. Volume 44, Issue 1, 2016, Pages 46-53. IF = 1.161
5. Voltammetric Study of the Influence of Various Phosphate Anions on Silver Nanoparticle Oxidation / Dr. Daria V. Navolotskaya, Her Shuang Toh, Dr. Christopher Batchelor–McAuley and Prof. Dr. Richard G. Compton // ChemistryOpen. – 2015. – V. 4(5). – pp. 595–599, DOI 10.1002/open.201500100, IF = 3.250
6. Stripping Coulometry Determination of Lead and Mercury at Screen-Printed Electrodes / D.V. Timofeeva, Y.V. Tsapko, S.S. Ermakov // Journal of Electroanalytical Chemistry. – 2011. – 660. – p. 195–199
Public and organizing activity:
Expert of "International Natural Sciences Tournament".